Hello,
Here are the 10 recently added drum sheets :
The Pointer Sisters – I'm So Excited – ADVANCED
Alter Bridge – Life Must Go On – INTERMEDIATE
Offenbach – Les Eaux qui Dorment – ADVANCED
Coolio – Gangsta's Paradise – INTERMEDIATE
David Bowie – Rebel Rebel – INTERMEDIATE
David Gilmour – In Any Tongue – INTERMEDIATE
N.E.R.D. – You Know What – BEGINNER
The Rolling Stones – She's a Rainbow – INTERMEDIATE
Phil Collins – All of My Life – BEGINNER
Leo Moracchioli and Mary Spender – Sultan of Swing Metal Cover – ADVANCED
François Faverais composed é a new song for Brass Band Kids, a tribute to; Wynton Marsalis, the famous jazz trumpet player BBK – Wynton's Blues
The sheet music, tablature and other services request site is now online:
services.bestmusicsheet.com For those who have made recent requests for quotes, they will all be studied. Don't double up on your requests.
Note that this is a different site. You will need to create a new account but you can use the same login and password.
For those who follow me on social networks, I started to the double bass drum pedal last month. I have written 10 exercises that I think are important to work on when you start learning this "new instrument".
Double bass drum exercises PART 1
You too have written exercises to improve your drumming and you want to share them with the drummers community? Contact me.
We recently lost 2 musicians who marked the 70s and 80s:
Fred White – Earth, Wind and Fire drummer
Anita Pointer – The Pointer Sisters singer
I made a video to show you my drum setup:
My drum setup
Each year, I will put online a list of songs for beginner drummers:
10 songs for beginner drummers in 2023
NEW PARTNERSHIP
Do you know the BaXboard? It is an innovative accessory that allows you to keep everything in order. Easy to reach without hurting your back (phone – computer – sheet music – controllers, percussion, drumsticks,…). It can be fixed everywhere and in every way! On drums, cymbal stands, or even cymbals, microphone stands. it is used for drummers but also for singers, guitarists, bass players and pianists.
Click on the video to watch the BaXboard presentation.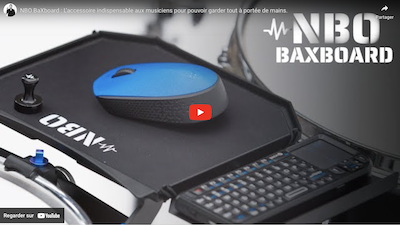 To celebrate this meeting with Nathan Bonjour, we offer you 10% on the purchase of the BaXboard and 8€; for the purchase of sheet music on Best Music Sheet. Use teh code BMS-NBO when you buy the BaXboard to get the discount.
This is the european link: nbo-official.com/discount/BMS-NBO
And the Switzerland link: nbo-official.ch/discount/BMS-NBO
New drum sheets easy
Coolio – Gangsta's Paradise
David Bowie – Rebel Rebel