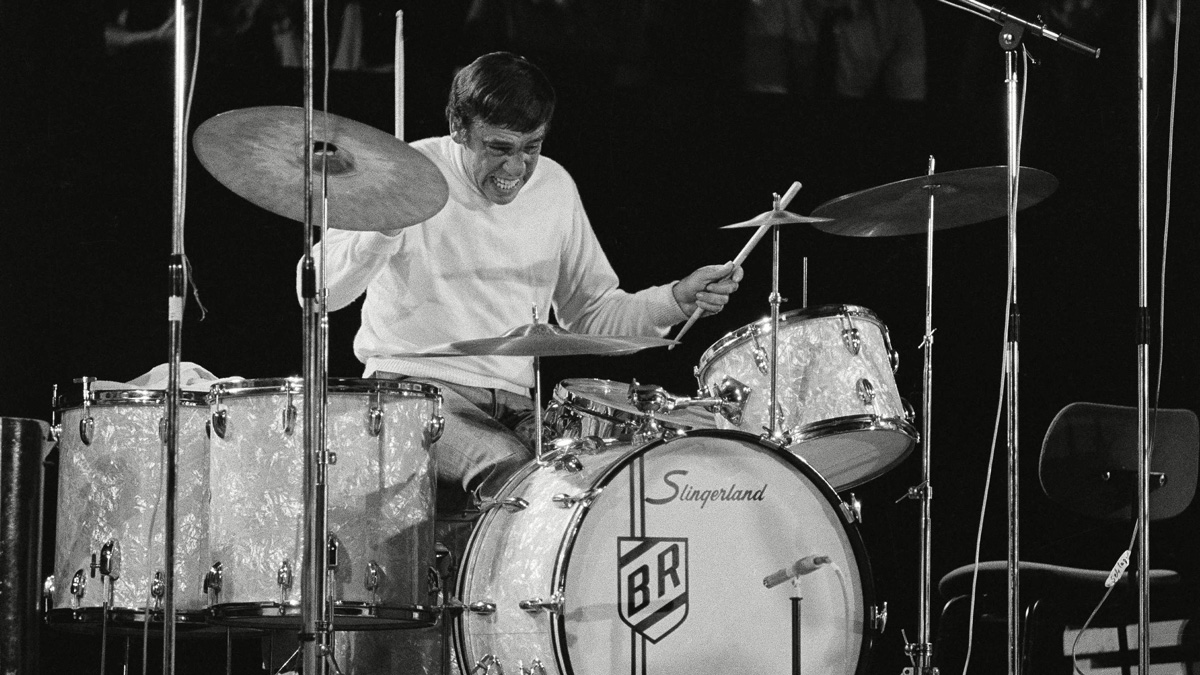 With his power, speed, and agility, he's probably the greatest jazz drummer of all time! Ladies and gentlemen, without further ado, here's Buddy Rich!
GIFTED BUDDY
Bernard "Buddy" Rich was born on 30 September 1917 in Sheepshead, Brooklyn, New York to Robert Rich and Bess Skolnik who were both *vaudevillians.
*Vaudeville is a theatrical genre of variety entertainment started in France at the end of the 19th century. It was originally a comedy without psychological or moral intentions, based on a comical situation: a dramatic composition or light poetry, interspersed with songs or ballets.
Buddy was born gifted with natural musical talent. He began his professional career at a very young age of 18 months. He was a tap dancer, singer, and of course, a drummer, with his parents' vaudeville act where he acquired the stage name "Baby Traps, the Drum Wonder". When he was 6 years old, he was known as "Traps, the Boy Wonder" and with his age, he already performed on Broadway, and toured the United States and Australia. At the age of 11, Buddy was already leading a band. And at the age of 15, he became the second-highest paid child entertainer in the world! Only second? Who's the first then? By that time during the 1930s, highest-paid child entertainer was the American actor and comedian, Jackie Coogan.
Below is a full audio recording of by then 12 years old Buddy Rich, known as "Buddy Traps" or "Traps, the Drum Wonder," on the 1929 Vitaphone music short film entitled "Sound Effects".
According to Buddy Rich, legendary jazz drummers Gene Krupa, Chick Webb, Ray McKinley, Jo Jones, Sid Catlett, and Ray Bauduc were the musicians who influenced him. Rich is so brilliant that despite of his huge success, what he does is just to listen and memorize the drum parts because he never learned to read drum sheets.
RICH'S JAZZ CAREER
It was in 1937 when he started his career on jazz. It all began when he started playing with the clarinetist Joe Marsala at New York's Hickory House. Then he became a member of big bands which were led by Bunny Berigan and Artie Shaw. In 1939, he joined Tommy Dorsey's band where he met Frank Sinatra who later on became his lifelong friend. From then he went on to play with jazz greats like Louis Armstrong, Dizzy Gillespie, Charlie Ventura, and of course, Gene Krupa. And in late 1940s, he was regularly featured in Jazz at the Philharmonic.
In 1942, Buddy joined the United States Marine Corps where he served as a judo instructor and *never saw combat. This is the reason why he left the Dorsy band.
*In case you are wondering, "see combat" is an expression used to distinguish between soldiers who have back office jobs like for example, planning, logistics, etc. and those who are actually carrying a gun.
And in 1944, due to some medical reasons, Buddy Rich was discharged. And after he left the Marines, he rejoined to the Dorsey Band. In 1946, he formed a band with a financial support from his friend Frank Sinatra, and he also continued to lead bands until early 1950's. After the war, he formed his big band that features backing vocals from Sinatra, and they often played at the Apollo Theater.
Now, let's see Buddy Rich's Discography!
As leader/co-leader
• 1953: The Flip Phillips Buddy Rich Trio (Clef)
• 1954: The Swinging Buddy Rich (Norgran)
• 1955: Sing and Swing with Buddy Rich (Norgran)
• 1955: Buddy and Sweets (Norgran)
• 1955: The Lester Young Buddy Rich Trio (Norgran)
• 1955: The Wailing Buddy Rich (Norgran)
• 1955: Krupa and Rich (Clef)
• 1955: The Lionel Hampton Art Tatum Buddy Rich Trio (Clef)
• 1956: Buddy Rich Sings Johnny Mercer (Verve)
• 1956 [1967]: This One's for Basie (Verve) re-issued 1967 as Big Band Shout
• 1957: Buddy Rich Just Sings (Verve)
• 1958: Buddy Rich in Miami (Verve)
• 1959: Richcraft (Mercury) – also The Rich Rebellion (Wing)
• 1959: Rich Versus Roach (Mercury)
• 1959: The Voice is Rich (Mercury)
• 1960: The Driver (EmArcy)
• 1961: Playtime (Argo)
• 1961: Blues Caravan (Verve)
• 1962: Burnin' Beat (Verve)
• 1965: Are You Ready for This? (Roost)
• 1966: Swingin' New Big Band (Pacific Jazz/Blue Note)
• 1966: The Sounds of '66 (Reprise)
• 1967: Big Swing Face (Pacific Jazz)
• 1967: The New One! (Pacific Jazz) – a.k.a. Take it Away
• 1968: Rich à la Rakha (World Pacific)
• 1968: Mercy, Mercy (Pacific Jazz)
• 1969: Buddy & Soul: Recorded Live in Hollywood at the Whiskey A Go-Go (Pacific Jazz)
• 1970: Keep the Customer Satisfied (Liberty)
• 1971: A Different Drummer (RCA) – a.k.a. Superstar
• 1971: Rich in London (RCA) – expanded UK release – Buddy Rich: Very Alive at Ronnie Scott's (RCA (UK))
• 1971: Conversations (EMI-Parlophone)
• 1972: Stick It (RCA)
• 1973: The Roar of '74 (Groove Merchant)
• 1974: Very Live at Buddy's Place (Groove Merchant)
• 1974: Transition (Groove Merchant)
• 1974: The Last Blues Album Volume 1 (Groove Merchant)
• 1975: Big Band Machine (Groove Merchant)
• 1976: Speak No Evil (RCA)
• 1977: Buddy Rich Plays and Plays and Plays (RCA)
• 1977: Lionel Hampton Presents Buddy Rich (Who's Who in Jazz) – a.k.a. Buddy's Cherokee… also released as The Sound of Jazz, Vol 10
• 1977: Class of '78 (The Great American Gramophone Company) – also released as The Greatest Drummer That Ever Lived with "The Best Band I Ever Had"
• 1978: Together Again: For the First Time Buddy Rich, Mel Tormé (Gryphon/Century) – a.k.a. When I Found You
• 1980: Live at Ronnie Scott's (DRG) – Live. a.k.a. The Man from Planet Jazz
• 1981: Buddy Rich Band (MCA)
• 1982: Live at the 1982 Montreal Jazz Festival (Hudson Music)
• 1983: Rich and Famous (Amway) – a.k.a. The Magic of Buddy Rich, a.k.a. Buddy Rich – The Man
• 1985: Mr. Drums: … Live on King Street, San Francisco (Cafe)
Posthumous albums
• 1993: Europe '77 (Magic)
• 1996: Buddy Rich & His Big Band At Stadthalle Leonberg, Germany 10 July 1986 (Jazz Band)
• 2001: Wham! The Buddy Rich Big Band Live (Label M)
• 2004: No Funny Hats (Lightyear)
• 2007: Time Out (Lightyear)
• 2009: Buddy Rich Up Close (Drum Channel)
• 2014: The Solos (Lightyear Entertainment)
• 2015: Birdland (Lightyear Entertainment)
• 2019: Just In Time: The Final Recording (Gearbox Records)
Compilation albums
• 1960: The Drum Battle (Gene Krupa and Buddy Rich at JATP) (Verve)
• 1964: The Best of Buddy Rich (Pacific Jazz)
• 1969: Super Rich (Verve)
• 1969: The Best of Buddy Rich (World Pacific Jazz Records ST-20169)
• 1971: Time Being (Bluebird/RCA)
• 1978: Mr. Drums (Quintessence)
• 1987: Compact Jazz: Buddy Rich (Verve)
• 1990: Compact Jazz: Gene Krupa & Buddy Rich (Verve)
• 1992: No Jive (Novus)
• 1998: Buddy Rich: The Legendary '47–'48 Orchestra Vol. 1 (Hep)
• 1998: Buddy Rich: The Legendary '46–'48 Orchestra Vol. 2 (Hep)
• 2005: Classic EmArcy, Verve, Small Group Buddy Rich Sessions (Mosaic No. 232)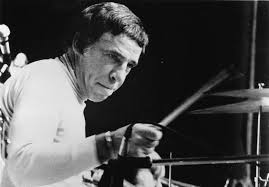 As sideman
With Count Basie
• 1952 [1954]: Basie Jazz (Clef)
• 1952 [1956]: The Swinging Count! (Clef)
• 1956: Blues by Basie, Count Basie
With Benny Carter
• 1952 [1955]: Alone Together (Norgran)
• 1954: Benny Carter Plays Pretty (Norgran)
• 1954: New Jazz Sounds (Norgran)
With Harry James
• 1953 [1975]: Radio Discs of Harry James (Joyce LP 2002)
• 1953 [1977]: One Night Stand With Harry James (Joyce LP 1014)
• 1953 [1978]: One Night Stand (Sandy Hook SH 2004)
• 1953 [1980]: One Night Stand With Buddy Rich & Harry James (Joyce LP 1078)
• 1953/1958 [1983]: One Night Stand With Harry James at The Blue Note (Joyce LP 1124)
• 1953/1962 [1979]: Live! (Sunbeam SB 230)
• 1953–54 [1979]: Saturday Night Swing (Giants of Jazz Productions GOJ LP-1016)
• 1954 [1976]: 1954 Broadcasts (Sunbeam SB 217)
• 1954: Trumpet After Midnight (Columbia CL 553 and B-410)
• 1954: Dancing In Person With Harry James At The Hollywood Palladium (Columbia CL 562 and B-428)
• 1953–54 [1955]: Juke Box Jamboree (Columbia CL 615)
• 1956 [2002]: Harry James and His New Jazz Band, Vol. 1 / Vol. 2 (Mr. Music MMCD 7010/7012)
• 1957: *Wild About Harry! (Capitol T 874 / ST 874)
• 1963: Double Dixie (MGM E-4137 / SE-4137)
• 1964 [1989]: 1964 Live! In The Holiday Ballroom Chicago (Jazz Hour Compact Classics JH-1001)
• 1964 [1979]: One Night Stand With Harry James on Tour in '64 (Joyce LP 1074)
• 1965: New Versions of Down Beat Favorites (MGM SE-4265).
• 1965: In a Relaxed Mood (MGM SE-4274)
• 1965: Harry James Plays Green Onions & Other Great Hits (Dot DLP 3634 / DLP 25634)
• 1965 [1981]: Harry James, Buddy Rich, Woody Herman (Europa Jazz EJ 1041)
• 1966: The Ballads and the Beat! (Dot DLP 3669 / DLP 25669)
* Buddy Rich appears on Wild About Harry! under the pseudonym "Buddy Poor" since Rich was still under contract to Verve Records at the time.
With Charlie Parker
• 1950: April in Paris: Charlie Parker with Strings, (Charlie Parker)
• 1954: Big Band (Clef)
With others
• 1951: Lester Young Trio, Lester Young, Nat King Cole (not originally credited)
• 1952: The Drum Battle, Gene Krupa
• 1954: Lionel Hampton Plays Love Songs, Lionel Hampton
• 1953: Sweets at the Haig, Harry "Sweets" Edison
• 1954: Little Jazz, Roy Eldridge (Clef, 1954)
• 1955: Pres and Sweets, Lester Young and Harry Edison (Norgran, 1955)
• 1955: Plays Count Basie, Oscar Peterson
• 1956: The Genius of Bud Powell, Bud Powell
• 1956: Ella and Louis, Ella Fitzgerald and Louis Armstrong (Verve, 1956)
• 1958: Having Wonderful Time, Tommy Dorsey
• 1962: Burnin' Beat, Gene Krupa
• 1966: The Sounds of '66, Sammy Davis Jr.
• 1969: The Song Is You, Stan Getz
• 1974: Bunny Berigan: Leader & Sideman, Bunny Berigan
• 1982: Sinatra: World On a String, Frank Sinatra (Universal, 1982 [2016])
Aside from those, he also appeared in Hollywood films like Symphony of Swing (1939), Ship Ahoy (1942), and How's About It (1943). He was also a favorite on television talk shows like The Tonight Show with Johnny Carson, The Dick Cavett Show, The Merv Griffin Show, and The Mike Douglas Show because of his *caustic humor.
*Caustic humor is a type of humor that relies on witty insults. It could involve the clever use of language to convey biting, insulting, or sometimes cruel remarks.
With Sammy Davis Jr., here's the famous drum battle of Buddy Rich and Gene Krupa
Buddy Rich's appearance on The Muppet Show (1981)
A BIT OF HIS PERSONALITY
Aside from his kind of humor, Rich was also known for being short-tempered. When he and Frank Sinatra were still members of the Tommy Dorsey's Band, they both even have a rivalry which sometimes ended up in a brawl. But whatever happened, they still became lifelong friends.
According to Mel Tormé (also known as The Velvet Fog, American musician, singer, composer, arranger, drummer, actor, and author), who visited Rich a day before he died, one of his last requests was to hear the tapes of his angry outbursts. It was Lee Musiker, the pianist, who secretly recorded and documented Rich's temper on tour buses, and even in dressing rooms.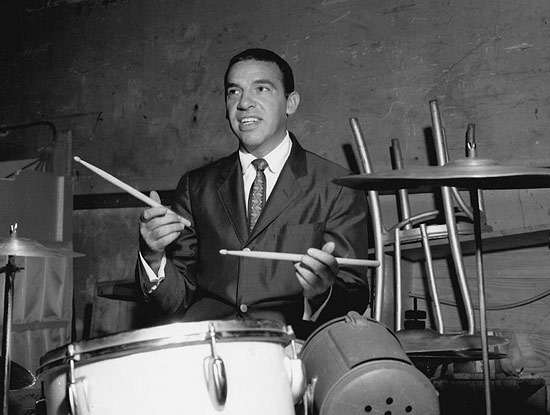 FROM DUSK 'TIL DAWN
Buddy Rich expressed his love for music through his devotedness to this art. With a span of seven decades, from 18 months old until he left us in 1987, he continuously shared with us his talent.
It was early March 1987 when he was hospitalized after suffering paralysis on his left side while he was on tour in New York. At first, physicians thought that it had been caused by a stroke. Then he was transferred to UCLA Medical Center to do some tests, and from there, the doctors discovered, and then removed a brain tumor on March 16. After a week, Buddy was discharged but still continued to have daily chemotherapy treatments at the hospital. And on 2 April 1987, at the age of 69, he died from unexpected respiratory and cardiac failure after he was given a treatment that was related to his malignant brain tumor. He was peacefully laid in Westwood Village Memorial Park Cemetery in Los Angeles, California.
Buddy Rich's last appearance. Recorded early 1987
LEGACY
Gene Krupa, another legendary Jazz drummer, described Buddy Rich as "the greatest drummer ever to have drawn breath".
With his technique that includes speed, smooth execution and precision, it has become a common standard in drumming. His influence extends from Jazz to Rock music, and as a proof, here are some of the famous drummers that was influenced by Rich: Vinnie Colaiuta, Simon Phillips, Dave Weckl, John Bonham, Gregg Bissonette, Ian Paice, Tre Cool, and Bill Ward. Travis Barker of Blink 182 is one of the many who believed that Rich is the greatest drummer of all time. Roger Taylor of Queen admits that Rich is the best drummer he ever saw for his sheer technique. And after reading the opinion of Rich on the importance of hi-hat, Phil Collins stopped using two bass drums and instead, he started to play hi-hat.
From then and until today, Buddy Rich will always be remembered as one of the history's greatest musicians. Do you have someone else on your mind? Tell us your favorite jazz drummers in the comments below! We would love to hear from you!
Thank you very much for your precious time, hope to see you again on my next blog!