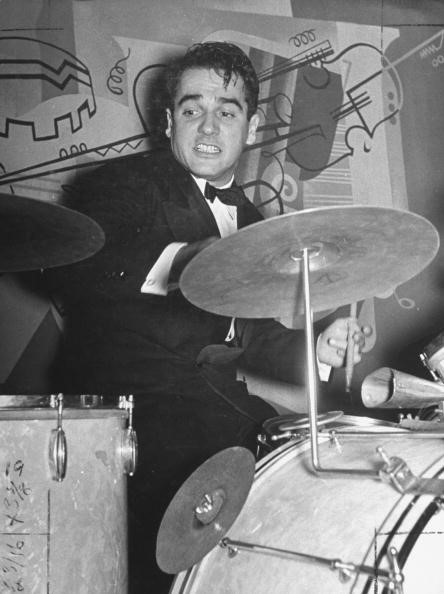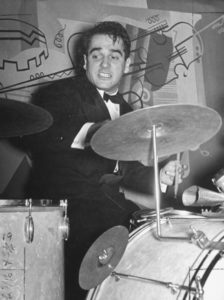 Today, we are going to talk about the man who brought "many firsts" when it comes to drumming. And according to Modern Drumming magazine, he is "The Man Who Made It All Happen" and is considered to be "The founding father of the modern drumset". Ladies and gentlemen, drummers and musicians of all ages, here's none other than, the legendary jazz drummer… Gene Krupa!
Younger Days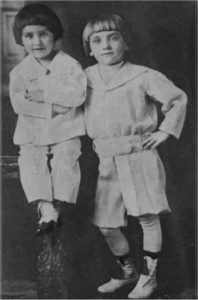 Eugene Bertram Krupa was born on 15 January 1909 in Chicago, Illinois, US. He was the youngest among 9 children of Anna (born Oslowski) and Bartłomiej Krupa, both of Polish descent. During the year 1915 up to 1929, Chicago was the major center of innovative music, and the style of jazz is emerging.
Krupa's parents were both very religious and he was brought up to be a priest. He went to parochial schools and then attended James H. Bowen High School in Chicago. After graduation, he went to Saint Joseph's College in Indiana for the priesthood, but his heart beats for a rhythm that is not for this kind of vocation, so he left after a year.
His father died when he was very young, and to support the family, his mother worked as a milliner. And also, all the children started to work even though they were all young. Pete, his brother, worked at the Brown Music Company, and this is where he got Gene an errand boy job when he was 11. During grade school, he started out playing sax. He used to look in the wholesale catalog for musical instruments like piano, trombone, and anything as long as it was an instrument, but he took drums because they were the cheapest item in the music store where they worked.
While Gene is still in grammar school, he joined his first band called "The Frivolians" where he played drums, only when there is a chance, like when the regular drummer is sick. They played in Madison, Wisconsin during Summer. And in 1923, upon entering high school, he became friends with the "Austin High Gang". The group includes musicians like Bud Freeman, Jimmy McPartland, Frank Teschemacher, and Jimmy Lanigan who will be on Gene's first recording session.

Early Career
Gene began to study percussion in 1925 with Roy Knapp, Al Silverman, and Ed Straight. Given advice, he joined the musicians' union. In 1927, he made his first recordings with a group named Condon's Chicagoans, led by banjo player Eddie Condon.
During those times, it is common to use only cymbals and snare to protect the microphones. But Gene wanted a whole kit, so the result is… the first-ever drummer to be recorded with a bass drum! (This was according to Krupa and Condon, who claimed that their recordings were the first to feature a bass drum 😉 ).
Also in 1927, Krupa joined Thelma Terry and Her Play Boys. Just a bit of info, Thelma Terry is a well-known bassist who is probably the first woman instrumentalist to lead a notable American jazz band. You can listen to two of their recordings below that they did on 29 March 1928.
Mama's Gone, Good Bye
Starlight and Tulips
Gene Krupa was greatly influenced by Baby Dodds, and also Tubby Hall, and Zutty Singleton. You can notice Dodd's press roll on Gene's drumming.
In 1929, Krupa moved to New York. This is where he studied drums to further hone his talent with the famous Sanford Augustus "Gus" Moeller.
Just in case you didn't know Gus Moeller (but I'm guessing you already know 😉 ), he was an American rudimental drummer, author, and educator, born in Albany, New York on 16 February 1878. He is best known for his Moeller method or sometimes called as "whipping technique" which was written in his book, The Art of Snare Drumming in 1925. Aside from Krupa, Jim Chapin also became his student.
The King of Swing
When Gene moved to New York in 1929, he was recruited by Red Nichols. Gene, Glen Miller, and Benny Goodman performed in the pit band of the new play "Strike Up the Band" by George Gershwin. Gene Krupa didn't know how to read music, so for him to be able to play the drum parts, Glen Miller assisted him by humming until he got them. After another performance in a pit band for Gershwin's "Girl Crazy", he joined Russ Columbo's band.
And in 1935, Gene Krupa joined Benny Goodman's group after urging and promising him that it will be a real jazz band. On 16 January 1938, their band was the first to perform in New York's Carnegie Hall. And his performance on the hit "Sing, Sing, Sing" made him a household name.
Krupa was considered to be the first drum soloist. And his performance on "Sing, Sing, Sing" had the first extended drum solo in jazz. Why "extended"? Ok, let me share with you the "first recorded wire brush drum solo" by The Georgians' Chauncey Morehouse in 1923 (and this was agreed by historians and the majority of the critics, https://drumsinthetwenties.com/2018/01/13/library-4-the-first-recorded-drum-solo-in-jazz-history/).
Land of Cotton Blues – The Georgians
While here you can listen to GK's performance at the Carnegie Hall in 1938, Sing Sing Sing (With a Swing)
And after their performance at Carnegie Hall, Krupa gained unprecedented popularity, and this was also the beginning of the tension between him and Goodman. According to what I've read, Goodman, as the leader of the band, didn't want to lose the spotlight to a sideman (GK), because the audiences were already demanding Krupa to be featured in every number.
On 3 March 1938, Krupa left the band. He formed his own orchestra after 2 months, and instantly gained success when they had their first performance at the Marine Ballroom on the Steel Pier in Atlantic City in April 1938. Also in 1938, Krupa wrote his own book, "The Gene Krupa Drum Method". In 1941, he started an annual Drum contest where thousands of drummers had joined. And who won the first year's contest? It's none other than, another drumming legend, Louie Bellson! Krupa also appeared in several films which include "Some Like It Hot", "Beat the Band", and "Ball of Fire". And this is why he was also considered to be the first drummer who became a matinee idol.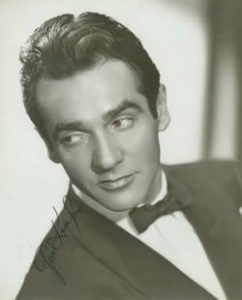 Busted!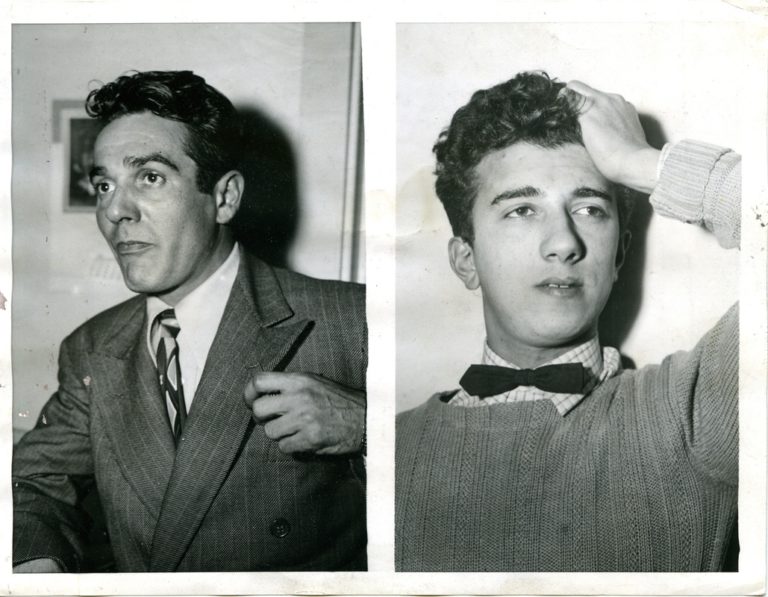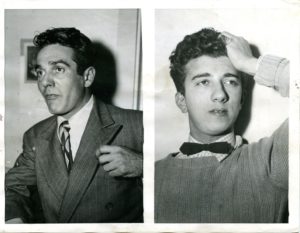 As we all know, nothing is perfect in this world, famous or not, we all have our own downfall. On 19 January 1943, after Krupa's last performance at the Golden Gate Hotel, Federal agents and San Francisco police arrested him. He was charged with possession of marijuana, contributing to the delinquency of a minor (17-year-old John Pateakos).
31 May 1944, Gene Krupa was set free after Pateakos testified that:
"I lied," he said. He swore that he had been coached in his testimony by narcotics agents. He said he had never been asked by Gene Krupa to get marijuana from Krupa's room.
Want to know more about the drug bust and the case? Here's a link where you can follow the story (Special credit to the rightful owner):
http://www.drummerman.net/drugbust.html
During the time when Krupa was in jail, Roy Eldridge, a legendary trumpeter, led the orchestra but eventually had to break up.
Released and Relieved!
After Krupa was released, he joined again Benny Goodman. And then with Tommy Dorsey. After several months, he formed again his next orchestra. Krupa's big band was one of the first to introduce "Bop" or "Bebop" arrangements with the help of Gerry Mulligan, and the trumpeter Red Rodney. Until the time came when most big bands were fallen apart, Krupa kept a smaller version, a 10-piece member, until 1951. And from 1952, he led a trio, and then a quartet.
Norman Granz recruited The Gene Krupa Trio for his "Jazz at the Philharmonic" concerts, and this is where Krupa was first billed as "The Chicago Flash".
Here is Stompin' at the Savoy by Gene Krupa Trio at JATP in Tokyo, 1953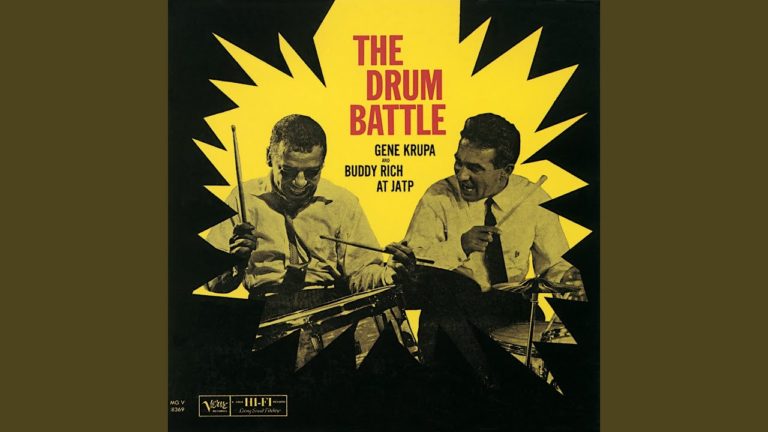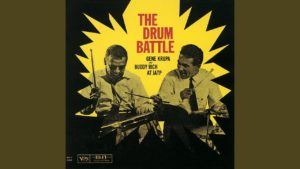 In October 1952, JATP introduced the famous "Drum Battles". In September 1952, Krupa and Buddy Rich performed at Carnegie Hall and it was released as The Drum Battle by Verve. In 1955, Krupa and Rich started to do some studio recordings. And in 1956, the studio album "Krupa and Rich" was released. The sequel to their first album, Burnin' Beat was released in 1962.
Here is Bernie's Tune from the album Krupa and Rich
And here's Duet from their album Burnin' Beat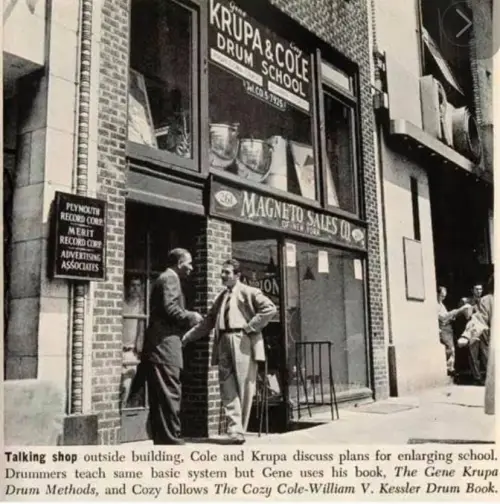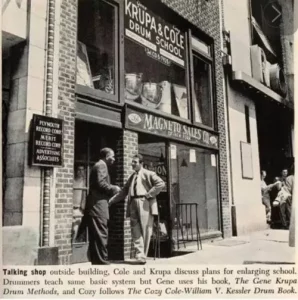 In March 1954, Krupa, together with Cozy Cole, formed the Krupa-Cole Drum School in New York City. And in a 2-year span, it averaged from 135 to 150 students per week! They offered complete courses for both beginners and advanced students. Aside from drums, they also have lessons for percussion instruments, vibraphone, and Latin-American rhythms. The first pupil they had, which is also the oldest, was a lady in her 40s, while the youngest they had was a 7-year-old. Peter Criss of Kiss became a student at this notable drum school.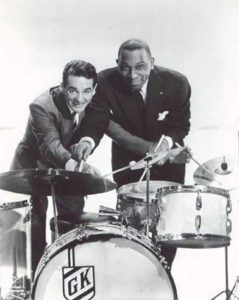 "The more you study, the more you find out you don't know" – Cozy Cole
Also in the 1950s, Krupa returned to Hollywood to appear in the movies The Glenn Miller Story and The Benny Goodman Story. And in 1959, starred by Sal Mineo, the movie biography The Gene Krupa Story was released.
The Setting of the Sun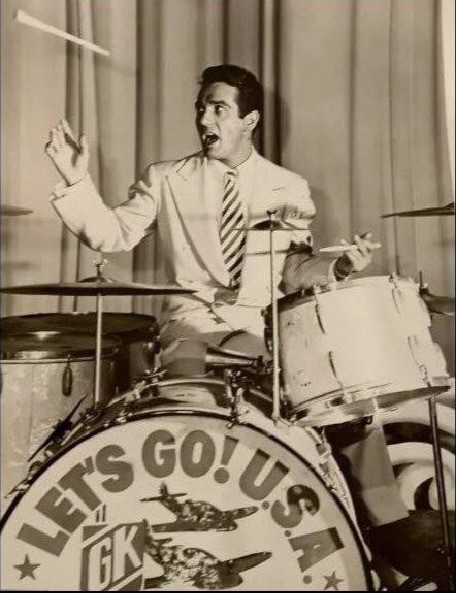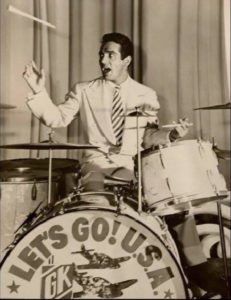 Due to increasing back problems, Krupa was prompted to slow down by the late 50s. And in 1960, he had a heart attack which forced him to retire for many months. After recovering, he continued to perform, record, and appear regularly at the New York's Metropole with his Quartet. When The Goodman Quartet reunited, Krupa led them with a hectic schedule through the early until mid-sixties, performing throughout the US and other countries. Due to his busy schedule, his health problems were back. In 1967, he retired, saying: "I feel too lousy to play and I know I must sound lousy."
While he is on break, he practiced and coached his baseball team. Krupa started a series of anti-drugs lectures and clinics for Slingerland Drums in 1969. And in the spring of 1970, he was back with his quartet and was featured at Hotel Plaza in New York. In November 1972, he made his last commercial recording, "Jazz at The New School" with Eddie Condon and Wild Bill Davison. Gene Krupa's final public performance was at the reunion with the original Benny Goodman Quartet on 18 August 1973.
16 October 1973, due to heart failure, Gene Krupa passed away at the of 64. He also had leukemia and emphysema. He was buried at the Holy Cross Cemetery in Calumet City, Illinois.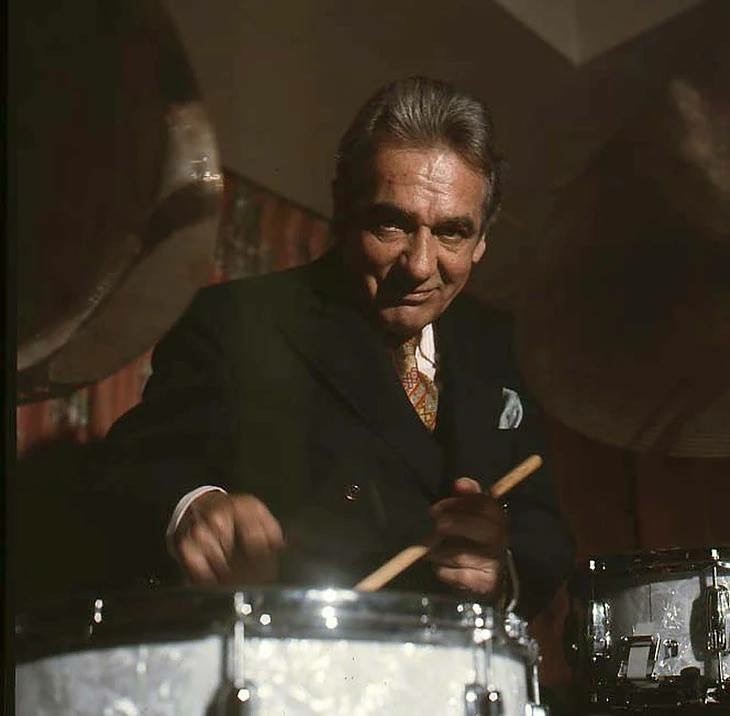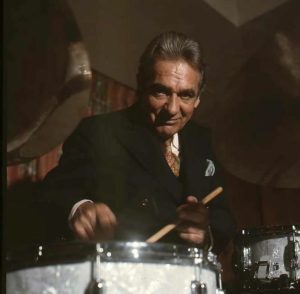 Now let's take a look at his Discography and Filmography!
Discography
As leader:
• 1946 Drummin' With Krupa (Columbia)
• 1947 Gene Krupa And His Orchestra (Columbia)
• 1948 Gene Krupa (Columbia)
• 1950 Gene Krupa Plays "Fats" Waller For Dancing (Columbia)
• 1952 The Original Drum Battle (Verve)
• 1952 The Drum Battle with Buddy Rich (Verve)
• 1953 Timme Rosenkrantz' 1945 Concert Vol. 3 (Commodore)
• 1953 The Exciting Gene Krupa
• 1954 Sing, Sing, Sing (Verve)
• 1954 The Driving Gene Krupa (Verve)
• 1954 Gene Krupa, Vol. 1 (Clef)
• 1954 Gene Krupa, Vol. 2 (Clef)
• 1955 The Jazz Rhythms of Gene Krupa (Verve)
• 1955 G. Krupa-L. Hampton-T. Wilson (Verve)
• 1955 The Gene Krupa Quartet (Clef)
• 1956 Drummer Man (Verve)
• 1956 Krupa and Rich (Verve)
• 1957 Krupa Rocks (Verve)
• 1959 Big Noise from Winnetka (Commodore)
• 1959 Plays Gerry Mulligan Arrangements (Verve)
• 1959 Hey…Here's Gene Krupa (Verve)
• 1959 The Gene Krupa Story (Verve)
• 1961 Percussion King (Verve)
• 1962 Burnin' Beat with Buddy Rich (Verve)
• 1963 The Mighty Two with Louis Bellson (Roulette)
• 1964 The Great New Gene Krupa Quartet Featuring Charlie Ventura (Verve)
• 1972 Jazz at the New School (Chiaroscuro)
As sideman:
Benny Goodman
• 1950 Live at Carnegie Hall (1938)
• 1955 The Benny Goodman Story, Vols. 1–2
• 1956 The King of Swing, Vol. 2
• 1956 Trio Quartet Quintet
• 1997 The Complete RCA Victor Small Group Recordings (RCA Victor, 1935–39 [1997])
Filmography:
• The Big Broadcast of 1937 – 1936 film with Benny Goodman & his Orchestra.
• Hollywood Hotel – 1937 film with Benny Goodman & his Orchestra.
• Some Like It Hot – 1938 film with Gene receiving billing under Bob Hope and Shirley Ross. The film has since been retitled "Rhythm Romance", due to the Marilyn Monroe film of the same name.
• Ball of Fire – 1941 with Barbara Stanwyck & Gary Cooper.
• Syncopation – 1942 with Goodman, Joe Venuti, Charlie Barnet, Harry James, etc.
• George White's Scandals – 1945 features Gene's second band(with strings). Includes Leave Us Leap & Bolero in the Jungle.
• Beat the Band – 1947 band with Gerry Mulligan.
• Boy! What A Girl! – 1947 with Sid Catlett, Slam Stewart.
• Smart Politics – 1948 with Freddie Stewart and June Preisser & the Harmonica Boys. Features Gene on the tune "Young Man with the Beat."
• Glamour Girl – 1948 with Gene's second band. Features "Gene's Boogie."
• The Glenn Miller Story – 1953 with Louis Armstrong and drum duel with Cozy Cole.
• The Benny Goodman Story – 1955 plays himself. Speaking role and plays with Goodman Band.
• The Gene Krupa Story – ("Drum Crazy")1959 film with Sal Mineo as Gene Krupa. Gene plays drums on the soundtrack and (reportedly)has a cameo in the "parlor" scene.
Music Film Shorts
• Gene Krupa – America's Ace Drummer Man & his Orchestra – 1940, the 10-minute film features 3 tunes including Jungle Madness. Features Irene Day and Howard Dulaney.
• Let Me Off Uptown – 1942 short featuring Anita O'Day and Roy Eldridge, included on "Gene Krupa Jazz Legend."
• Follow That Music – 1946 featurette has Gene in a humorous acting role as drummer "Gene King." Includes a very young Red Rodney on trumpet.
• Drummer Man – 1947, the 15-minute film included the full band on "Lover", "Boogie Blues", "Blanchette" and "Leave Us Leap." Jazz Trio performance of "Stompin' At the Savoy."
• Thrills of Music Series – a 10-minute film from 1948 features "Bop Boogie", "Sabre Dance" and "Disc Jockey Jump."
• Gene Krupa & his Orchestra – 1949 band complete with sunglasses and berets, 15 minutes. Features "Lemon Drop", "Deep Purple", "Bop Boogie", "Acrobatic Boogie" and "Melody In F." Includes a young Frank Rosolino on trombone and also scat singing on "Lemon Drop."
• Jamming with Gene Krupa – 1959 film short promoting "The Gene Krupa Story." Features Gene teaching Sal Mineo various aspects of his drumming. Included in the DCI video "Gene Krupa Jazz Legend."
Compilation of Videos and Documentaries
• Make Believe Ballroom – 1949 last big band appearance. Also features Jimmy Dorsey, Charlie Barnet & Nat "King" Cole. 78 Minutes.
• Jazz Ball – 1956 compilation of clips featuring Gene Krupa and several other swing bands. 60 Minutes.
• Swing – Best of the Big Bands – MCA Video 4 video release includes various clips from "Drummer Man" and "Gene Krupa & his Orchestra" film shorts. Also features many other top big bands.
• Benny Goodman's "Adventures in the Kingdom of Swing" – 1993 Columbia Music Video. Public television documentary featuring rare footage, including a short clip of 1973 Carnegie Hall rehearsals with Gene. 60 Minutes.
• Gene Krupa – Jazz Legend- 1993 DCI Video release chronicles Gene's career through video clips. Features commentary by Steve Allen & Louie Bellson. 60 Minutes.
• Gene Krupa – Swing, Swing, Swing – 1999 Tahoe Productions release by Bruce Klauber is chock full of great live performances, rare promotional films, interviews, and more. 60 Minutes.
• Buddy Rich – Jazz Legend Part 1 – DCI Video. – features a drum battle with BR from the 1966 Sammy Davis Jr. tv show. Gene's deteriorating health is sadly evident. 67 Minutes.
• Legends of Jazz Drumming Volume 1 – DCI Video. – features a promotional clip of the original Goodman Trio from the mid-fifties, made for the "Benny Goodman Story."
TV Appearances
• Sid Caesar Show – Hilarious 1954 appearance with Benny Goodman and Mel Powell recreating the legendary 1937 Paramount performance. Features Trio on "After You've Gone" and full band on "Sing, Sing, Sing." Sid Caesar even takes a chorus on the latter on tenor sax!
• Timex All-Star Jazz Show with Steve Allen – First show from December 30, 1957, featuring Cozy Cole, Louis Armstrong, Jack Teagarden, Duke Ellington, Woody Herman, The Dave Brubeck Quartet & others. Gene, along with Charlie Ventura and Bobby Scott, have a killer performance of "Dark Eyes."
• Timex All-Star Jazz Show with Garry Moore – Second Show from April 30, 1958, again features Cozy Cole, Louis Armstrong & Jack Teagarden. Also includes Gerry Mulligan, Lionel Hampton, and Jaye P. Morgan.
• Timex All-Star Jazz Show with Jackie Gleason – January 7, 1959 tv performance teams Gene with Louis Armstrong and Bobby Hackett. 60 Minutes.
• Playboy's Penthouse – Filmed December 4, 1960, with the Quartet including a performance of "Caravan."
• Bell Telephone Hour – 1961 reunion of Benny Goodman Trio.
• Tonight Show – 1962 "Drum Boogie" performance with NBC Orchestra. Amusing "drum talk" exchange with Donald O'Connor.
• Dean Martin Show – 1965, features Quartet on "Sing, Sing, Sing" and "Fascinating Rhythm/I Got Rhythm" with Martin, Bob Newhart, Dom Deluise, and Liberace.
• Mike Douglas Show – March 8, 1965. Gene with Carmen Leggio on tenor, Dick Wellstood on piano, and Eddie DeHaas on bass.
• Mike Douglas Show – March 9, 1966. Gene with Carmen Leggio on tenor, Dick Wellstood on piano, and Eddie DeHaas on bass.
• One Night Stand with Lionel Hampton – Canadian Television 1971, features Mel Torme, Mel Lewis, Teddy Wilson, & drum battle with Buddy Rich. 50 Minutes.
• All-Star Swing Fest at Lincoln Center – 1972 performance features Benny Goodman Quartet Reunion. 60 Minutes.
Gene Krupa has been considered to be the first drum soloist. Though during his time, drummers are usually the time-keepers or for others, they were just noisemakers, but, Krupa knows how to interact and support other musicians while being creative in his own role in the band.
Despite all these, there are still some musicians, historians, and jazz critics that considered Krupa an unmusical drummer and too loud. Jo Jones, another drumming legend, once said that all he (Krupa) ever did was play a tom-tom beat.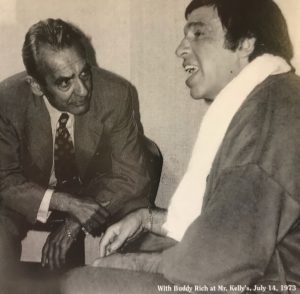 But to Buddy Rich, Krupa was the "beginning and the end of all jazz drummers." And for Louie Bellson, "He was a wonderful, kind man and a great player. He brought drums to the foreground. He is still a household name."
Gene Krupa, considered the father of the modern drumset (or drumkit), is the one who convinced H. H. Slingerland (of Slingerland Drums) to make tunable toms-toms. During those times, tom-toms had "tacked" heads which is hard to adjust the sound, so in 1936 "Separate Tension Tunable Tom-toms" was introduced. He also collaborated with Avedis Zildjian to produce cymbals that were much thinner than those in the past and to develop the modern hi-hat cymbals. They also standardized the uses and names of the crash cymbal, ride cymbal, and splash cymbal.
He will forever be known as the man who made drums a solo instrument. And his level of showmanship that he demonstrated to us which has not been equaled, will never be forgotten.
Can't get enough of Gene Krupa? Below are a few more clips and videos from his movies and shows, hope you enjoy them!
Gene Krupa and his Orchestra – "Lover" and "Leave Us Leap"
Gene Krupa and his Orchestra (1939, brush drum solo):
Drum Boogie played on a matchbox (from the 1941 movie Ball of Fire with Barbara Stanwyck)
"Boiler Room" drum solo (from the 1947 movie "Beat the Band," featuring a young Red Rodney on trumpet & Frances Langford)
"Gene's Boogie", from the 1948 film Glamour Girl with Carolyn Grey
Timex All-Star Jazz Show 1957
Drum Boogie – Live at the London House, Chicago (1959)
How High the Moon – Benny Goodman Quartet with Gene Krupa (The reunion, 29 June 1973 at the Carnegie Hall)
Memories of You (audio recording) – Benny Goodman Quartet with Gene Krupa (The reunion, 29 June 1973 at the Carnegie Hall)
And I guess this will be it for now! I can't thank you enough for reading this much from start to end. From the bottom of my heart, thank you very much. I really appreciate it a lot! Hoping to see you again on my next blog!
Oh and don't forget to share your thoughts too! Stay safe!