Yes, you read that right !! RipX DeepRemix is a software that will allow you to create your own backing tracks, without drums, without vocals, without bass, without harmonic instruments.
In February 2022, I was contacted by the company Hit'n'Mix, founded in 2009 and based in London (UK). The company was established to develop source separation and audio editing technology. Hit'n'Mix Ltd is a wholly owned subsidiary of Neuratron Group Ltd which also owns Neuratron Ltd, developer of professional music recognition software such as PhotoScore Ultimate and AudioScore Ultimate .
DeepRemix can isolate or remove drums and other instruments from songs in MP3 and other formats, making it possible for musicians and teachers to:
Learn/teach vocal and instrument parts from songs by being able to see and hear individual notes, chords and hits.
Play along to songs with vocals, drums and other instruments removed
Understand drum patterns, techniques and rhythmic compositions, by changing the timing of drum hits
Understand notes, chords, keys, drum patterns, techniques and rhythmic compositions, by changing their keys and timing
Change the tempo to make practice easier
I was impressed with the result. Of course you will never be able to have the quality of the original track but this software deserves that I tell you about it today.
System Requirements
Here are your computer specs to run DeepRemix.
Operating System
APPLE – macOS 10.12+ (2011 & later models)
WINDOWS – Windows 7/8/10/11 (64-bit)
Computer
Minimum: 2 Core 2.5GHz CPU, 8 GB RAM, 20 GB Free Disc Space
Recommended: 4+ Core CPU, 16+ GB RAM, 20 GB Free Disc Space
For Much Faster Ripping Speeds on Windows: NVIDIA GeForce 1070/1080/1080 Ti/2070/2080/2080 Ti/3070/3080/3090 with 16 GB RAM and NVIDIA CUDA Toolkit 11.0 installed (free download)

How use RipX DeepRemix?
This software is available for Apple computers and those equipped with the Windows operating system.
RipX DeepRemix can open format MP3, FLAC, m4a, Ogg, piste CD (.cda), WAV, AIF, MIDI (.mid).
You simply drag and drop the audio file into the main window: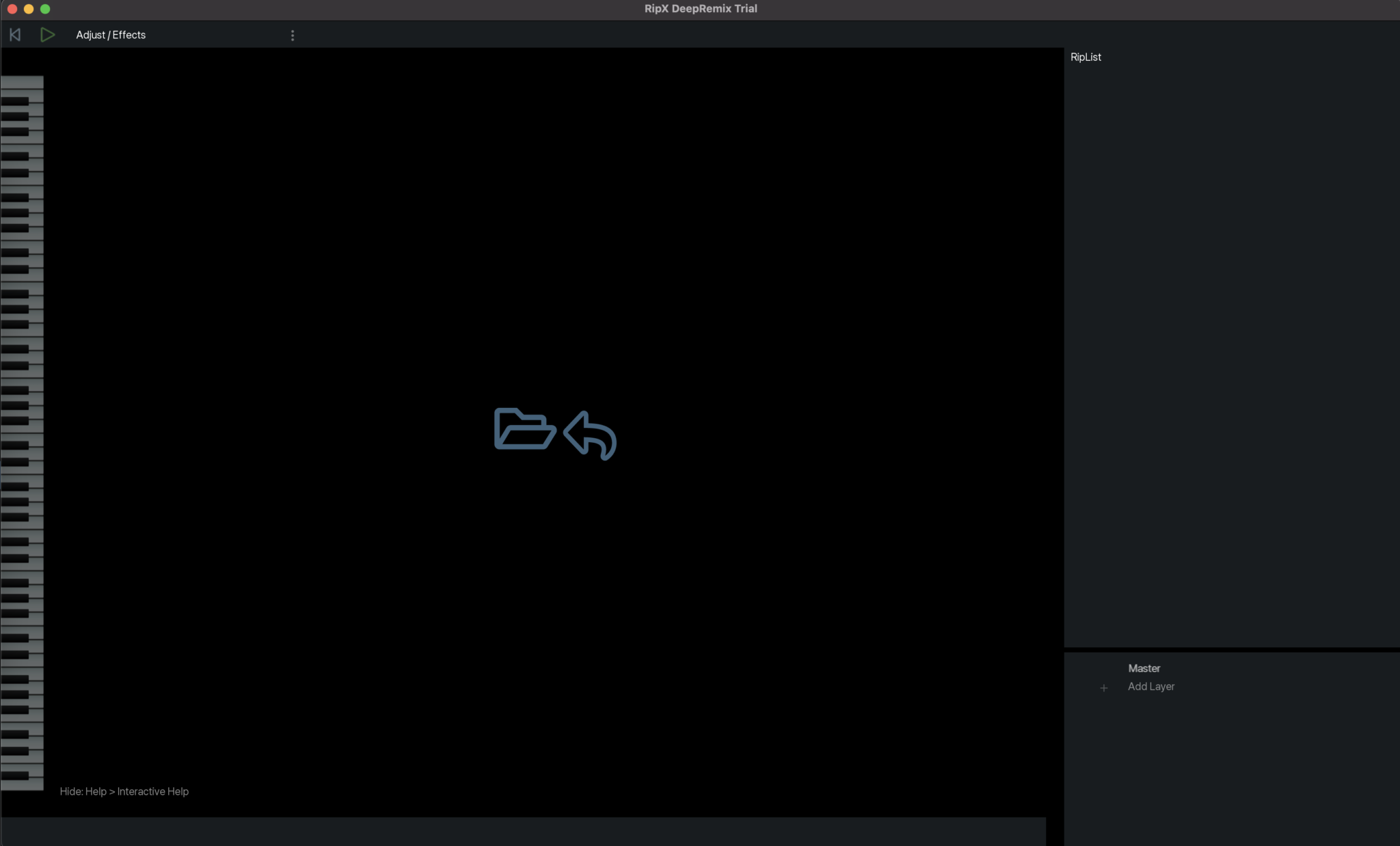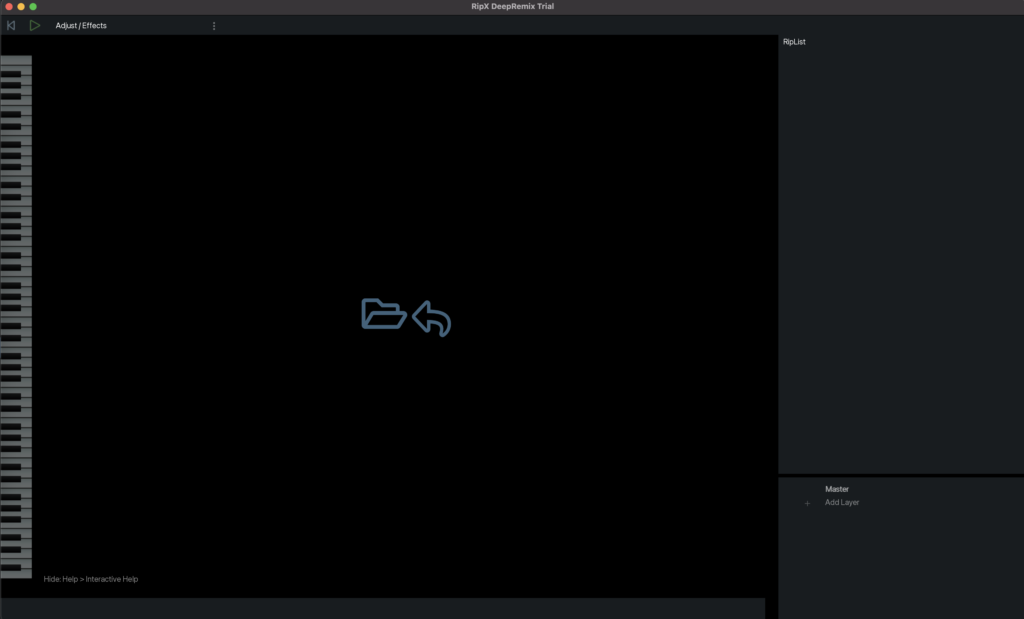 A dialog box opens: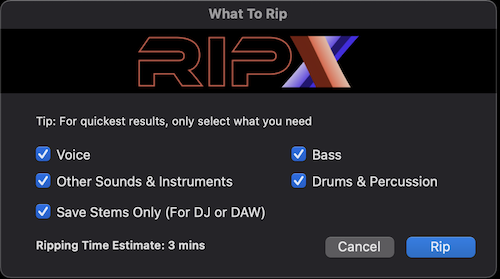 You have 2 options here.
1) With "Save Stems Only (For DJ or Daw)"
Check "Save Stems Only (For DJ or Daw)" to create 4 separate tracks containing: drums, bass, vocals and the others (harmonic instruments). You can also uncheck one of the 4 if you don't need it.
This option is the easiest and fastest way to get the 4 separate tracks (Stems). After clicking on Rip, the software will create a folder for you in which your 4 files will be located. This operation will take between 3 and 5 minutes depending on the length of the music.
At the top right a scroll bar displays the progress of the ripping operation.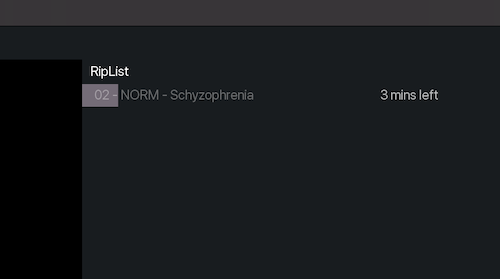 At the end of the operation, a window opens with your 4 files.
To find your Stems folders later, on an Apple computer, they are located in Documents/RipX/Stems/Song Name/
It will be possible to change this destination folder from the Preferences tab in the software.
Here is an example, from the song Schizophrenia by the band NORM? recorded in studio in 2006.
Original music


Vocals Stem


Instruments Stem


Bass Stem


Drums Stem

Tell me in the comments what you think of the result.
2) Without "Save Stems Only (For DJ or Daw)"
If you do not check the "Save Stems Only (For DJ or Daw)" box, the operation will be more advanced and the ripping time multiplied by at least 2.
I'm doing the test with the same song.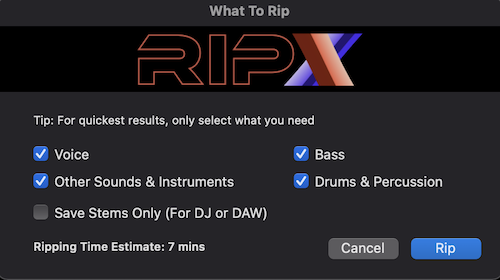 After clicking on Rip, the same task progress bar appears on the top right of the software.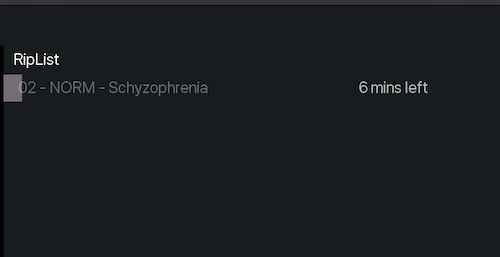 A completely different environment is now opening up to us.
All the harmonic and rhythmic structure of the song is displayed!!
Let's analyze the different parts of this window that are important for our purpose of removing an instrument from the song.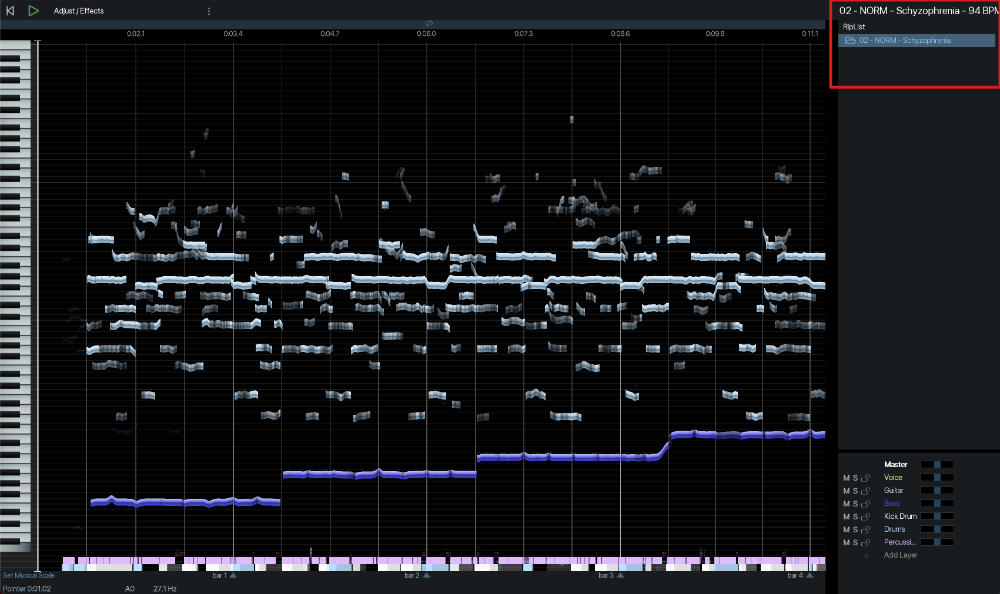 This is the window where you will find all the music already ripped. By double clicking on one of the folders, it opens the file corresponding to the music.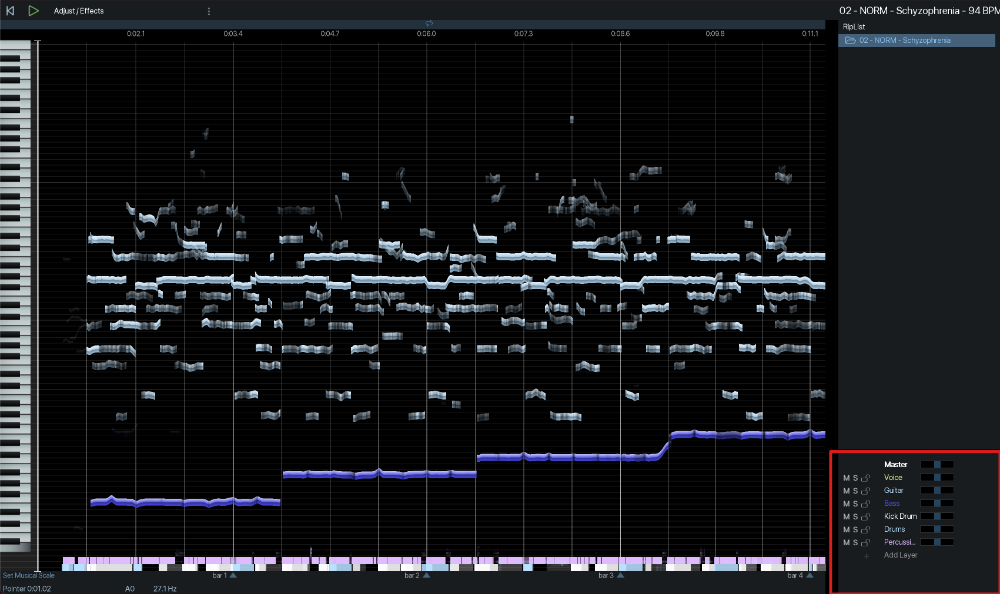 Here are displayed all the layers identified by the software. For this music: Voice, Guitar, Bass, Kick Drum, Drums, Percussion.
They can be Soloed or Muted. It is from these functions that you can, for example, make a song without drums or without vocals.
You can export in several formats: FLAC 16-bit, FLAC 32-bit, MIDI, MIDI Notes, MP3, Ogg 32-bit, Stem, WAV 16-bit, WAV 24-bit, WAV 32-bit, MP4, MOV.
Here is the result on Schyzophrenia with an export in MP3:
Here I mutated the voice layer

According to my tests on different music, you have to mute the Percussion, Drums and Kick Drum layers to really remove the drums

Here is a version without bass

And finally, a version without harmonic instrument (yes I know the bass is part of it but hey…)

What do you think of the result? Leave a comment 😉
Pricing
RipX DeepRemix is priced at 85€.
You can get 50% off if you are a student, teacher or an institution. You will need to provide proof that you are currently a student, teacher or representative of an educational institution. The proof must show your name, the name of the educational institution and a date indicating that the proof is currently valid. For example, it could be a student card showing the current academic year or an expiration date in the future.
Contact our sales team to find out more here .
You can get 25% off if you own RX, Melodyne or SpectraLayers. Contact the sales team for more information here.
Conclusions
Undoubtedly, the DeepRemix software will meet the expectations of many musicians wishing to understand the parts of their favorite songs. Not to mention the exceptional possibilities offered to music teachers for the learning of their students.
In this article, I show you how to easily make your backing tracks with DeepRemix. However, the software offers many other features, listed below:
World's Best AI Separation of mixed stereo files into vocals, drums, bass and other instruments
Add Stems to DJ Sets to balance vocals and instrumentals on the fly
Learn to Play Parts in songs by seeing the individual notes played on-screen, and even slowing down complex sections
Easily create Backing Tracks to practice along to
Export Audio to MIDI (even drums) to drive instruments in your favorite DAW
Add Harmonies with a single click
Adjust Note Pitch & Duration, tempo, musical scale, stereo panning, volume and EQ levels
Copy & Paste Parts Between Songs, with automatic tempo matching
Tune Notes naturally to the nearest semitone, or a new musical scale
Apply powerful built-in Live Effects
Randomize effects and musical scale/key for inspiration
Understand the Music with intuitive, color-coded notes, and instant visual feedback of edits & effects
Drag & drop Background Images to set the mood
Links
Website: hitnmix.com
Youtube channel: www.youtube.com/channel/UCNaLpkzWiKrPNAQQVlqLrbg
Manual: Download PDF
Video