Here is a cajon brand, Katho. These handcrafted cajons are made of high quality woods. They are famous for being stable, been in the industry for years, and have original designs.
The Katho brand has worked closely with various drummers for many years to ensure its quality development.
There are several variations of this cajon with prices ranging from 99 € to 449 €.
---
Cajon Katho Basik – 99€
---
Cajon Katho Ebano – 189€
---
Cajon Calabo Natural – 189€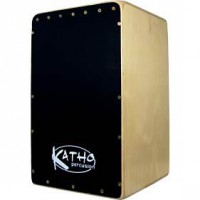 ---
Cajon Calabo Black – 189€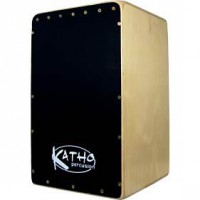 ---
Cajon Katho Cebra – 199€
---
Cajon Katho Hereida – 215€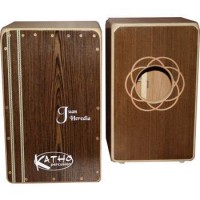 ---
Cajon Katho Rusti – 215€
---
Cajon Katho Raiz – 239€
---
Cajon Katho Apache – 359€
---
Cajon Katho Lokura – 449€
---
Indicative prices can be found on the website www.baguetterie.fr
---
Video
Description
I tested the Cajon Katho Lokura. It is very enjoyable to play, all the edges are rounded to not hurt hands. Under the cajon, there are 4 large buffers that ensures its perfect stability even if your floor is not perfect.
Inside, there are 4 snare strings. It is arranged in a V shape, starting from upper right, going down to the middle, then to the upper left. You can adjust the tension at the bottom by using the key that is smartly placed inside the cajon to prevent us from losing it.
There are also a series for kids that comes with flashy colors.
Inside there is a rubber band with 4 bells that vibrates when playing bass. They are removable. On the video, I removed it.
Sound
We must find the right tone setting for an effective slam sound, without hearing any vibration when playing the bass. The fact that the adjustment is done from below, it is very convenient.
The sound is powerful and is very well balanced. I tried it in live percussion-guitar-voice context, and it stands out perfectly. No need for a sound system if the room is quiet.
This product is a very good quality for a reasonable price.