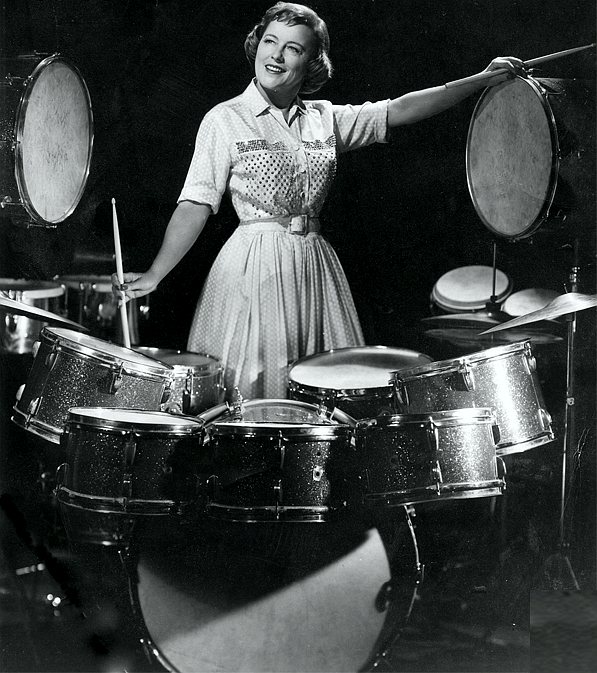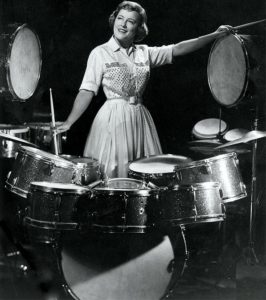 Dubbed "the fastest girl drummer in the world", Viola Schmitz was born into a family of musicians on 29 November 1912 in Mount Calvary, Wisconsin, US. She was the sixth child among ten siblings. She started in her family's orchestra with her seven sisters and called themselves The Schmitz Sisters Family Orchestra which later became Smith Sisters Orchestra.
The Schmitz Sisters Family Orchestra
Founded by their father in the 1920s, the Schmitz Sisters Family Orchestra started doing performances at the concert hall and tavern operated by their parents in neighboring Fond du Lac county, Wisconsin. The members were Irene (trombone), Erma (vibraphone), Edwina (trumpet), Lila (saxophone), Mildred (bass violin), Loretta (piano), Sally (bass sax), and since Viola was a younger sibling and most of the instruments were taken, their father decided that she will play the drums!
In an interview with Tom Tom Mag in 2013, Viola's reaction when it was decided that she will play the drums was: "This was great for me! What better instrument to play than the drums?"
They also performed and toured on the Radio-Keith-Orpheum (RKO) circuit, and played in vaudeville and movie theaters while some of them were still attending school. They got their big break when they performed on Major Bowes Amateur Hour radio show (America's Got Talent radio version during the 1930s) with Viola's nephew, Dennis Bartash.
Due to sisters getting married and starting to have families, the Smith Sisters Orchestra disbanded.
Frances Carroll & The Coquettes
The popularity they gained from the radio broadcast helped Viola and her sister Mildred to start The Coquettes, an all-girl orchestra, in 1938. They hired Frances Carroll, a pretty and talented lady to be the band leader. In 1940, The Coquettes with Smith as its drummer became so popular that she with her drums was featured on the February 24 Billboard magazine cover.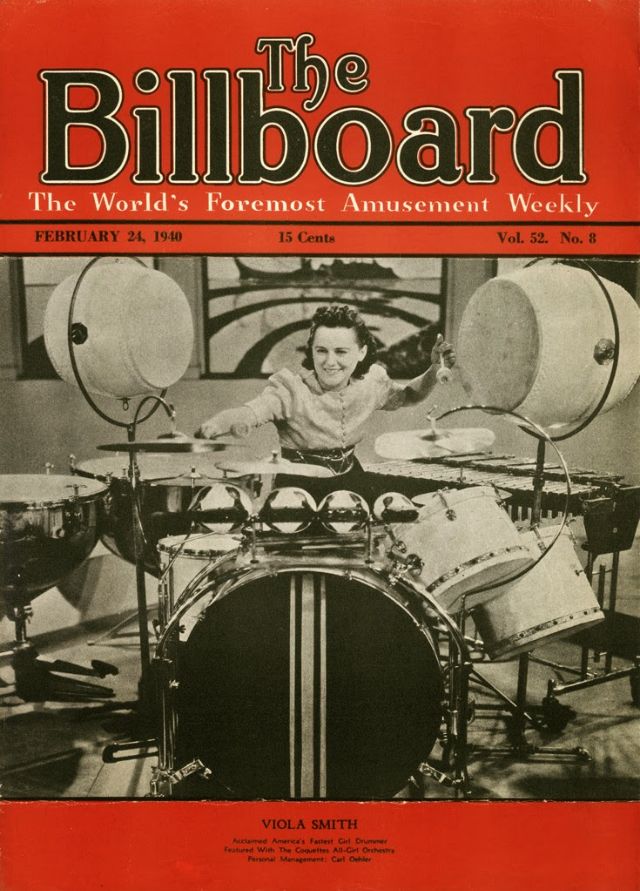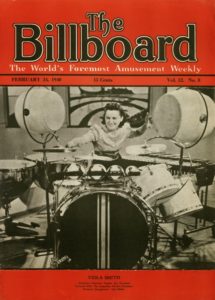 Here are some of the performances by Frances Carroll & The Coquettes
1942 
The year 1942 has been a roller coaster for Viola Smith. It has full of ups and downs.
In 1942, The Coquettes disbanded after Mildred got married. She went to New York, which according to her, it is where she always wanted to be. During that time, 52nd Street was very popular. And this is where she gets to experience and saw other music legends like Benny Goodman, Count Basie, and Woody Herman. Woody Herman once asked Smith to join his orchestra after he heard The Coquettes. He offered her that if she couldn't join as a regular drummer, then maybe she could join them as a "visiting soloist".
Also in 1942, she won a summer scholarship at the Juilliard School in New York to study timpani. She also received a handmade snare drum from Billy Gladstone who was considered one of the best drummers in America, and a legendary snare-drum innovator. Smith also studied drums under Gladstone. This is where she perfected her signature style and people started calling her the "Female Gene Krupa", and also the "fastest girl drummer".
She joined Phil Spitalny's Hour of Charm Orchestra, an all-girl orchestra that achieved commercial success. The Hour of Charm Orchestra was featured in the films When Johnny Comes Marching Home in 1942 (where they were portrayed as substitute musicians who filled the male musicians who went abroad during WWII), and Here Come the Co-Eds in 1945 (they were portrayed as residents of a girls' dormitory that can sing and play music). The Orchestra also did short films mostly for Universal Pictures, including Phil Spitalny and His Musical Queens in 1934, Big City Fantasy in 1934, Musical Charmers in 1936, and Moments of Charm in 1939. And from then on, she went to play with the NBC Symphony Orchestra, Ella Fitzgerald, and Chick Webb.
Phil Spitalny and His Musical Queens (1934)
Here Come The Co-Eds, 1945
Also in the same year, Viola wrote an article for Down Beat magazine entitled "Give Girl Musicians A Break!" which is famous until now. You can see below a copy of the article.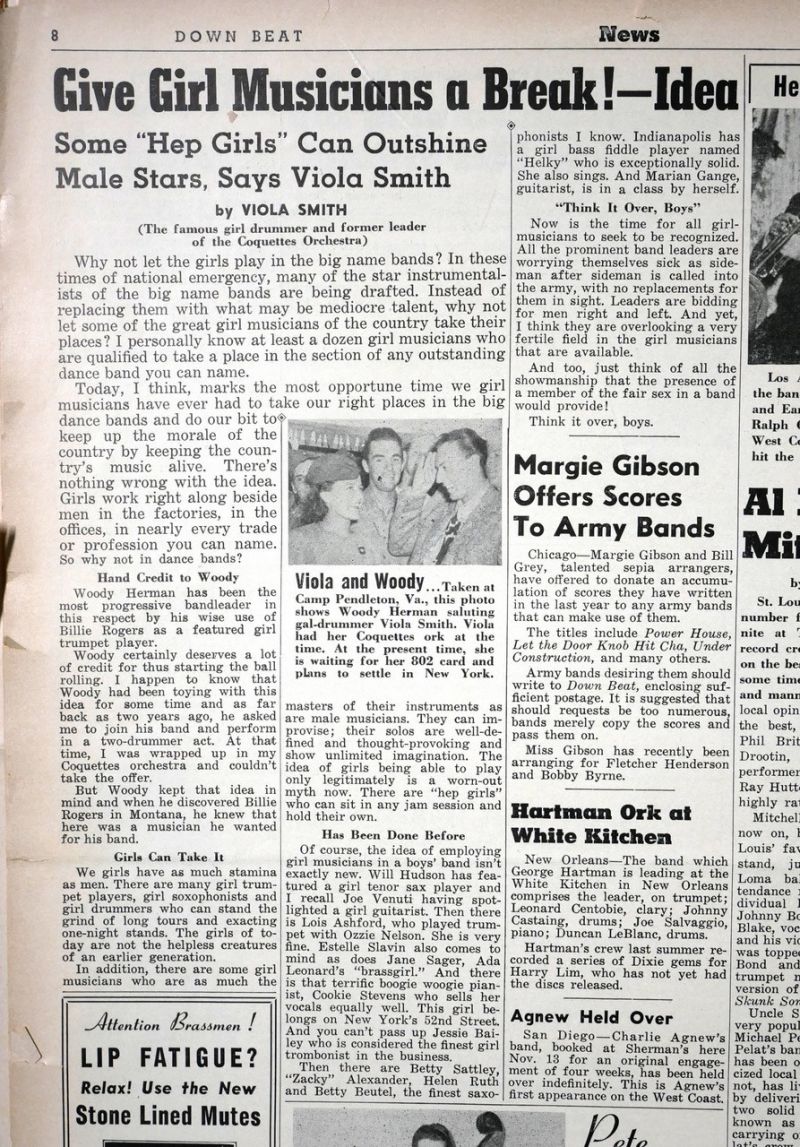 The year 1942 was also a heartbreaker for Smith. Her father passed away, and also, the man to whom she was engaged, was drafted into World War II. And this is the reason why Viola Smith was never married.
Moving Forward
Now, let's move ahead. Viola Smith also joined Ada Leonard's All-American Girl Orchestra, they were labeled as "The Most Elegant of the women's band". In 1949, Smith performed at the inauguration of President Harry Truman. She also appeared on Ed Sullivan show five times! She was also with the Hour of Charm until 1954. And after the orchestra disbanded, Smith formed and led her own band, Viola and her Seventeen Drums. Viola Smith also became part of the original Broadway production, Cabaret, from 1966 to 1970 as the drummer of the Kit Kat Band. Later, she and the Kit Kat band appeared on several TV shows like Liza Minnelli's special, "Liza with a Z". She continued to perform, on and off, until she was in her 90s. She was also featured in Allegro Magazine (10 November 2013) in the article "A Century of Swing 'Never lose your groove!"
Ada Leonard's All-American Girl Orchestra (1943)
Kit Kat Band from the musical Cabaret (1966)
Signature Drums
How many drums did Viola Smith have for her kit? Well, some say it has 13 drums, while others say it is a 12-piece drum kit. But no matter how many it is, what makes it so unique? The two 16-inch tom-toms beside her at shoulder level! Smith was one of the endorsers of WFL drums (William F. Ludwig, one of the founders of Ludwig drums).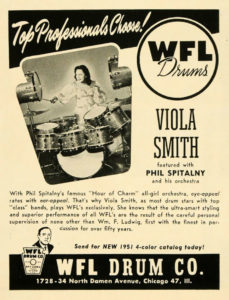 And did you know?! According to Viola Smith, the great jazz drummer Louis Bellson (well-known for pioneering the use of double bass drum) had an idea and began using two bass drums after he have seen her perform in the 1930s with her famous two 16-inch tom-toms!
The Setting of the Sun
Viola Smith retired from her professional career during the early 1970s. And in the 90s, she moved to Costa Mesa, California to a Christian commune called Piecemakers that ran a craft shop. According to one interview, Viola, who was 100 years old during that time, is still doing some drum lessons like drum rolls for rock 'n roll, and for classical.
Night of the 21st of October 2020, according to Viola Smith's nephew, Dennis Bartash, she passed away peacefully in her sleep at her home in Costa Mesa. She was 107 years old and the cause was complications from Alzheimer's disease.
Viola Smith, one of the first professional female drummers, "The Fastest Girl Drummer in the World", often dubbed as "The Female Gene Krupa", and "An Advocate for the Rights of All Women Musicians", will never be forgotten and will always be cherished.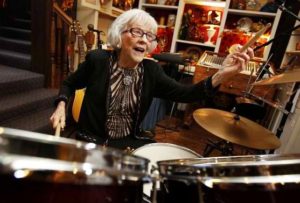 "One thing always led to another. It was all very easy, the transitions, there was no big deal I had to worry about ever… I really had a charmed life. Unless people call drumming work. Then I worked hard in my life." —an excerpt from her 2013 interview with Tom Tom Magazine
Do you have any fond memories of Viola Smith? Please don't hesitate to share it with us, we always love to hear you! See you on my next blog!