Last 31 March 2022, the six-time Grammy award winners and one of the legendary rock band, Red Hot Chili Peppers, received the 2,717th star on the famous Hollywood Walk of Fame. This happened a day before the release of Unlimited Love, their 12th studio album.
A Flash from the Past
Tony Flow and the Miraculously Majestic Masters of Mayhem was formed in 1983 in Los Angeles, California. Hey wait, I thought we are talking about the Red Hot Chili Peppers? Who are those? Yes, it's right, we are talking about their flashback, and that was the first name of the band before it became to the name we know today! Now, let me continue. The band were formed by Anthony Kiedis (vocalist), Michael Balzary or famously known as Flea (bassist), Hillel Slovak (guitarist), and Jack Irons (drummer). On 25 March 1983, the band changed its name to Red Hot Chili Peppers, which was taken from the 1920's Louis Armstrong's jazz quintet, The Hot Five.
Slovak and Irons were already committed to another band, What Is This?, by that time. So when the band, What Is This? got a record deal in December 1983, they both quit Red Hot Chili Peppers. By then, Cliff Martinez (drummer), and Jack Sherman (guitarist) were recruited by Kiedis and Flea. But Sherman was fired in February 1985 because of the musical and life style tension between Kiedis and him. Also in early 1985, Slovak rejoined RHCP after he quits with What Is This?. In 1987, Irons also rejoined the RHCP, but left again in June 1988 after Slovak passed away due to drug overdosed.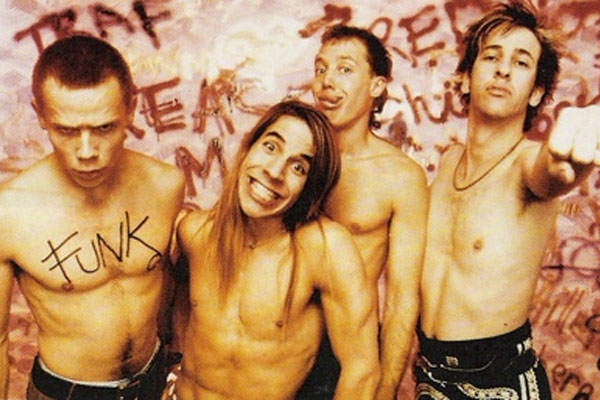 The joining of John Frusciante and Chad Smith
Fast forward a bit, in 1988, D. H. Peligro, currently RHCP's drummer, introduced John Frusciante, a then teenage guitarist and a fan of RHCP, to Kiedis and Flea. And on September, he performed his first show with the band. And in November, because of his alcohol and drug problems, Peligro was fired by Kiedis and Flea.
Since Peligro was fired, they held an open auditions. And in December 1988, Chad Smith was hired and stays with the band until now.
In 1991, the Red Hot Chili Peppers had their first major commercial success with their fifth studio album, Blood Sugar Sex Magik.
The On and Off and On of John Frusciante
In 1992, with the newfound popularity, Frusciante left the band because he felt uncomfortable. So the band had a series of temporary guitarists until he was replaced by Dave Navarro. But in April 1998, Navarro left the band which according to the band is due to creative differences. But according to reports, it is because he was under the influence of drugs when he attended the band practice. And after what happened to Navarro, Frusciante rejoined the band. And with the released of their seventh studio album, Californication, in 1999, their biggest commercial success happened. And then another successful albums were released, By The Way in 2002, and Stadium Arcadium in 2006. And guess what? Their first album to reach number one on the Billboard 200 chart is… Stadium Arcadium!
And in 2009, Frusciante left again to concentrate on his solo career. Josh Klinghoffer replaced Frusciante, and became the band's guitarist from 2009 – 2019. But on 2 November 2019, Klinghoffer performed his final show with the Red Hot Chili Peppers in a charity event. And on 15 December 2019, the band announced on their Instagram that Frusciante was back! And last 1 April 2022, they just released their latest album, Unlimited Love.
Past and Present
Red Hot Chili Peppers, like any other bands, has had lots of ups and downs before they reached the top. Hard times, alcohol and drugs, changing of members, etc. But when the chemistry is there, you will always find where you belong. Let's check out the past and present members of the Red Hot Chili Peppers.
Past
• Hillel Slovak – guitars, backing vocals (1983, 1985–1988) (died 1988)
• Jack Irons – drums, backing vocals (1983, 1986–1988)
• Cliff Martinez – drums (1983–1986)
• Jack Sherman – guitars, backing vocals (1983–1984) (died 2020)
• DeWayne McKnight – guitars, backing vocals (1988)
• D. H. Peligro (Darren Henley) – drums (1988)
• Arik Marshall – guitars, backing vocals (1992–1993)
• Jesse Tobias – guitars, backing vocals (1993)
• Dave Navarro – guitars, backing vocals (1993–1998)
• Josh Klinghoffer – guitars, keyboards, backing vocals (2009–2019) (touring 2007)
Present
• Anthony Kiedis – lead vocals (1983–present)
• Flea – bass, backing vocals (1983–present), trumpet (1988–present), piano (2011–present)
• John Frusciante – guitars, backing vocals (1988–1992, 1998–2009, 2019–present), keyboards (1998–2009, 2019–present)
• Chad Smith – drums, percussion (1988–present)
And now let's check out the Red Hot Chili Peppers' Discography:
• The Red Hot Chili Peppers (1984)
• Freaky Styley (1985)
• The Uplift Mofo Party Plan (1987)
• Mother's Milk (1989)
• Blood Sugar Sex Magik (1991)
• One Hot Minute (1995)
• Californication (1999)
• By the Way (2002)
• Stadium Arcadium (2006)
• I'm with You (2011)
• The Getaway (2016)
• Unlimited Love (2022)
Unlimited Love album
Released on 1 April 2022, the Unlimited Love is the band's twelfth studio album. It reached number one on 10 countries which includes their home country, the United States, when it made its debut. And the album's first single, Black Summer, which was released in February 2022, became the band's fourteenth number one on the Billboard Alternative Songs chart. Over all, the album received positive reviews!
Here are the tracks for the Unlimited Love album:
1. Black Summer
2. Here Ever After
3. Aquatic Mouth Dance
4. Not the One
5. Poster Child
6. The Great Apes
7. It's Only Natural
8. She's a Lover
9. These Are the Ways
10. Whatchu Thinkin
11. Bastards of Light
12. White Braids & Pillow Chair
13. One Way Traffic
14. Veronica
15. Let 'Em Cry
16. The Heavy Wing
17. Tangelo
18. Nerve Flip (Japanese CD bonus track)
All these tracks are written by RHCP members: Anthony Kiedis, Flea, John Frusciante, and Chad Smith.
Tours
The Red Hot Chili Peppers will have a tour in 32 cities which will begin on 4 June 2022 in Seville, Spain, and will end on 25 September 2022 in Louisville, Kentucky. It will be supported by acts that includes Anderson .Paak, Beck, The Strokes, St. Vincent, Haim, Thundercat, and King Princess.
For tickets, availability, and for more information, please check on their website: redhotchilipeppers.com/tour/.
Okidoki! Thank you once again for spending your precious time reading. I really appreciate it a lot! Hope to see you again on my next blog! Stay safe!