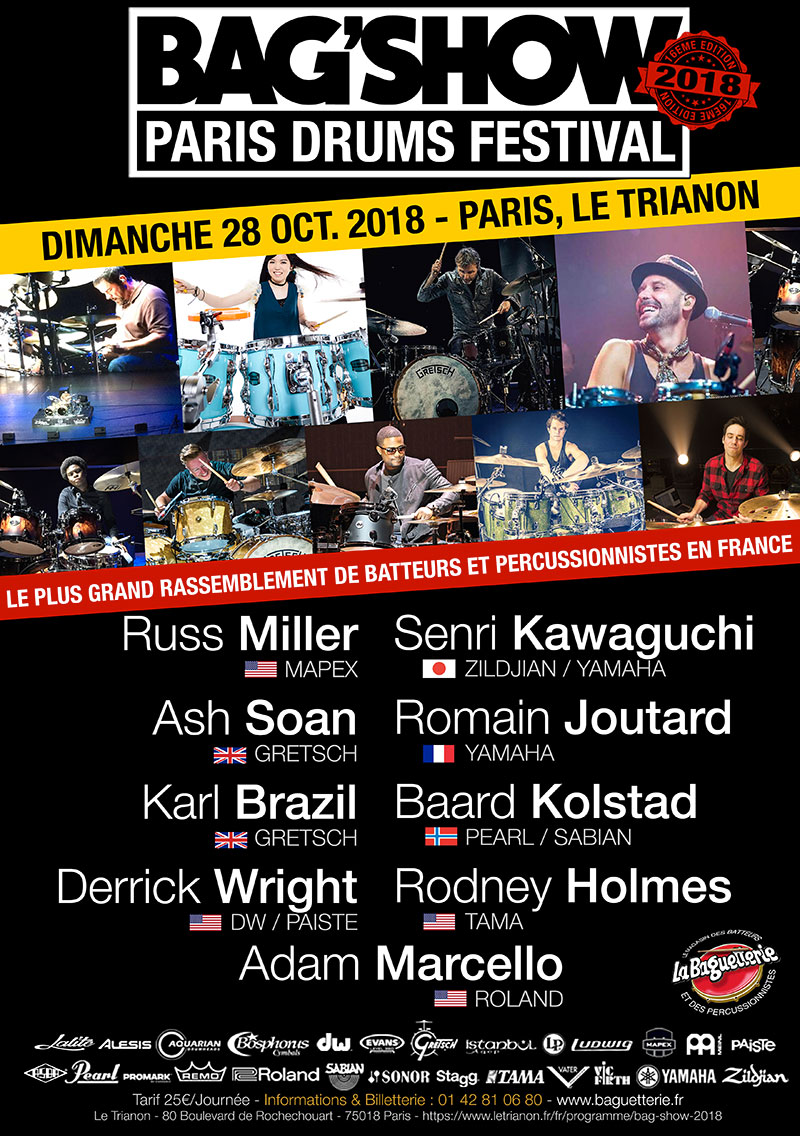 L'édition 2018 du festival Bag Show organisé par www.baguetterie.fr se déroulera le 28 octobre à Paris au Trianon.
Une fois de plus l'affiche est prestigieuse, cette année le festival accueillera :
Russ MILLER : Le batteur américain signé cqui encore la marque Mapex à joué avec des artistes internationaux tels que Ray Charles, The Fifth Dimension, Natalie Cole, Tina Turner & Bobby Caldwell through modern stars, Nelly Furtado, The Psychedelic Furs, Hilary Duff, Steve Perry, Andrea Bocelli, Daniel Bedingfield and Meredith Brooks.
Ash SOAN : à jouer en live avec The Rolling Stones, R.E.M., Bon Jovi, Van Halen, Oasis, Bryan Adams à Wembley, il a tourné avec Marianne Faithfull, Sinead O'Connor, Sheryl Crow, Robbie Williams, James Morrison, Will Young, Squeeze, Lewis Taylor, Hamish Stuart, The Waterboys, Jeff Lorber, Trevor Horn and Seal, Rumer, Terry Reid, Ronnie Wood, Dionne Warwick, etc… Il a enregistré des albums avec Cher, Seal, Robbie Williams, Billy Idol, Adele, Enrique Iglesias, Dionne Warwick and Rumer, James Morrison, Cee Lo, Celine Dion et Ronan Keating.
Karl BRAZIL : Batteur anglais de studio, il a joué pour les plus grands : One Direction,, Christina Aguilera, James Blunt, Robbie Williams, Joss Stone, James Morrison, Jason Mraz, Corneille, etc…
Derrick WRIGHT : c'est l'un des batteurs les plus respectés et les plus recherchés au monde. Ses talents de percussionniste, sa passion et son dévouement pour la musique ont amené M. Wright à travailler avec quelques-uns des artistes les plus réputés au monde, tels que Adele, Toni Braxton et Thalia, pour n'en nommer que quelques-uns.
Senri KAWAGUCHI : batteuse japonaise qui monte en puissance.
Romain JOUTARD : c'est l'un des batteurs français les plus prolifiques. il a tourné avec Richard Gotainer, Imany, Irma et dernièrement Christophe Maé.
Baard KOLSTAD : batteur de métal norvégien.
Rodney HOLMES : il a joué avec des musiciens très connu dans le monde du jazz et du rock : Santana, Steve Lukather, Michael Brecker, Randy Brecker, Wayne Shorter, Joe Zawinul, Maceo Parker, Rob Thomas, Al Jarreau, Paul Gilbert, Jim Weider, Bill Evans, Daryl Jones, Alphonso Johnson, Mike Mainieri and Steps Ahead et beaucoup d'autres.
Adam MARCELLO : il est batteur et directeur musical pour Katy Perry.
De nombreuses marques seront également présentes avec des stands présentants les nouveautés et organisant des séances d'autographes tels que : Lalite, Alesis Aquarian, Bosphorus, DW, Evans, Gretsh, Istanbul, LP, Ludwig, Mapex, Meinl, Paiste, Zildjian, Yamaha, Vic Firth, Vater, Tama, Stagg, Sonor, Sabian, Roland, Remo, Promark, Pearl…
Tarif : 25€
Informations / Réservation : 01 42 81 06 80 – www.baguetterie.fr
Lieu : Le Trianon
80 Boulevard de Rochechouart 75018 Paris